Synopsis of Public Wolf Howl #114
Date: August 1, 2013
Location: Ring-necked Pond (km 42 of Highway 60)
Result: Successful
Total Number of cars: 300
Estimated number of people: 1,200
Number of staff working: 19
How the pack was found
The naturalist staff scouting for wolves on Tuesday night heard the pups at this location and two adults a short distance away. On Wednesday night the wolves were again at the same spot.
What happened at the howl?
We moved the line of cars from the Outdoor Theatre to the Visitor Centre to turn the first half of cars around. We centered the line of cars at Ringneck Pond. Once everyone was in place, we started the first howling sequence and pups were heard, however, it was faint on the west side (Rock Lake Road end). After a 20 minute break to let cars travelling through the Park get past the site, the naturalists again howled and this time there was a full pack response that could be heard by everyone.

Comments from the Chief Park Naturalist
This was one of most satisfying wolf howl in years! The crowd was enthusiastic, the staff and volunteers working were excellent and the wolves responded. The second response from the pack was fantastic…pups and adults serenaded the crowd with a long, sustained howl. And to top it off, the crowd spontaneously erupted in applause after it was over. What a wonderful evening!!
Reserve your developed or backcountry campsite for your next visit.
Share your passion for Algonquin Park by becoming a member or donor.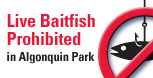 Special regulations for Algonquin's special fishery.