Synopsis of Public Wolf Howl #113
Date: August 30, 2012
Result: Unsuccessful
Total Number of cars: 325
Estimated number of people: 1,300
Number of staff working: 22
How the pack was found
A full pack response including multiple adults and pups had been heard the night before, and staff were hopeful that the experience would be repeated.
What happened at the howl?
Although the night was clear and warm, high winds made hearing wolves challenging. Though some park staff thought they heard wolves faintly between gusts of wind, the majority of visitors did not hear anything, and as such, this Public Wolf Howl was unsuccessful.

Comments from the Chief Park Naturalist
It was a disappointing end to 2012 Public Wolf Howl season, especially as conditions were otherwise perfect and visitors were treated to a beautiful moonlit evening. See you at the next scheduled Public Wolf Howl on Thursday, August 1, 2013, wolves and weather permitting.
Reserve your developed or backcountry campsite for your next visit.
Share your passion for Algonquin Park by becoming a member or donor.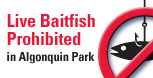 Special regulations for Algonquin's special fishery.