Synopsis of Public Wolf Howl #112
Date: August 16, 2012
Location: Highway 60 near the West Gate
Result: Unsuccessful
Total Number of cars: 350
Estimated number of people: 1,400
Number of staff working: 24
How the pack was found
The naturalist staff scouting for wolves on Tuesday and Wednesday night heard a full pack response at this location both nights.
What happened at the howl?
Approximately 1,400 people arrived for the Park's 112th Public Wolf Howl. Anticipation was high as the convoy proceeded to the howl location - especially as some of the staff and visitors glimpsed a wolf running across the road near the howling location.
However, as the naturalists got into position, wind and a light rain began to build. Naturalist staff completed the first howl sequence amid a light drizzle and gusts of wind. No response could be heard through the poor conditions. Rain continued to build - eventually pouring down in thick sheets of rain. With no chance of completing the howl, and with many participants leaving early, the 112th Public Wolf Howl had to be cancelled early and deemed unsuccessful.

Comments from the Chief Park Naturalist
A disappointing end to an evening - but park staff are hopeful both weather and wolves will cooperate for Thursday the 23rd for the Park's 113th wolf howl.
Reserve your developed or backcountry campsite for your next visit.
Share your passion for Algonquin Park by becoming a member or donor.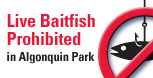 Special regulations for Algonquin's special fishery.