Synopsis of Public Wolf Howl #110
Date: August 11, 2011
Location: Beaver Pond Trail
Result: Unsuccessful
Total Number of cars: 470
Estimated number of people: 1,880
Number of staff working: 24

How the pack was found
The naturalist staff scouting for wolves on Tuesday and Wednesday night heard a full pack response at this location both nights.

What happened at the howl?
We moved the line of cars from the Outdoor Theatre to the Brewer Lake parking area and centered just east of Beaver Pond Trail entrance. Once everyone was in place, we started the first howling sequence. There was a faint response from a couple of pups (although most people would not have heard them or recognized them as pups). After a fifteen minute break, the naturalists again howled with no success.

Comments from the Chief Park Naturalist
This was another frustrating evening since the response both Tuesday night and Wednesday night was fantastic. The acoustics at this sight are great and if the pack had been present, everyone would have been able to hear them. We are not certain, but it is possible the pack moved as the pup response was faint and the adults may have not been at the rendezvous site. Interestingly, an adult wolf was seen by one participant of the wolf howl to the west of the Visitor Centre as we were setting up at the site…possibly one of the members of the pack out hunting.
Technically, we would call this successful as wolves did respond but everyone agrees that we were not satisfied and consider the response unsuccessful. But we also have to remember, these are wild animals and they don't always follow the script!
Reserve your developed or backcountry campsite for your next visit.
Share your passion for Algonquin Park by becoming a member or donor.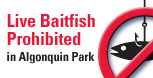 Special regulations for Algonquin's special fishery.