Synopsis of Public Wolf Howl #109
Date: August 4, 2011
Location: Minnesing Mountain Bike Trail (Cache Lake flats)
Result: Unsuccessful
Total Number of cars: 406
Estimated number of people: 1,624
Number of staff working: 20

How the pack was found
The naturalist staff out scouting for wolves on Wednesday night heard a full pack response at this location. After reporting they had found wolves, a senior Park staff member joined them at the site and a full pack response was again heard.

What happened at the howl?
We moved the line of cars from the Outdoor Theatre to the Cache Lake flats centered at Minnesing Mountain Bike Trail entrance. Once everyone was in place, we started the first howling sequence. There was no response after the first 3 single human howls nor after the three group howls. After a fifteen minute break, the naturalists again howled with no success.

Comments from the Chief Park Naturalist
This was a frustrating evening given that we had actually located 4 wolf packs along Highway 60 between Tuesday night and Wednesday night. In one location, the pack was there Tuesday night but not Wednesday night. In the second location, the pack was there both nights but the acoustics at the site would not accommodate 400 cars (you need about 1.5 km of road for 400 cars). At the third location, the pack was not there on Tuesday night but there on Wednesday night. This is another location that does not lend itself well to a large group of cars. We knew the Cache Lake site would allow us the room we needed. One unanticipated problem was the boat noise from Cache Lake. It did delay us from howling on the second howling sequence.
Reserve your developed or backcountry campsite for your next visit.
Share your passion for Algonquin Park by becoming a member or donor.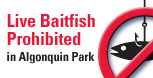 Special regulations for Algonquin's special fishery.