Synopsis of Public Wolf Howl #108
Date: August 12, 2010
Location: Rock Lake Road
Result: Successful
Total Number of cars: 405
Estimated number of people: 1,620
Number of staff working: 20

How the pack was found
The naturalist staff out scouting for wolves on Tuesday night heard pups at this location but not adults. On Wednesday night, we set up staff at various locations along the Rock Lake Road to try to pinpoint the location of the rendezvous site. After one single howl from one of our naturalists, several adults and pups all responded.

What happened at the howl?
We moved the line of cars from the Outdoor Theatre to the Rock Lake road centered at km 1.7. Once everyone was in place, we started the first howling sequence. There was no response after the first 3 single human howls but after the two naturalists did their first group howl, an excellent full pack response was heard. After a fifteen minute break, the naturalists again howled and after their second group howl, the full pack of wolves, both adults and pups responded. This was again an excellent long pack howl ending with a single adult and a single pup trading howls with each other!

Comments from the Chief Park Naturalist
Adults of this pack were heard already last week at this location but without locating the pups, we were not able to hold a Public Wolf Howl. This Wolf Howl was certainly one of the best howls we have had in years – the weather was perfect, the stars amazing, and two incredible responses heard by everyone attending. It doesn't get much better!
Reserve your developed or backcountry campsite for your next visit.
Share your passion for Algonquin Park by becoming a member or donor.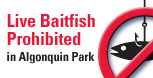 Special regulations for Algonquin's special fishery.