Fall Colour Report
Updated:
See the detailed fall foliage report below, plus links on how to plan your own visit to Algonquin.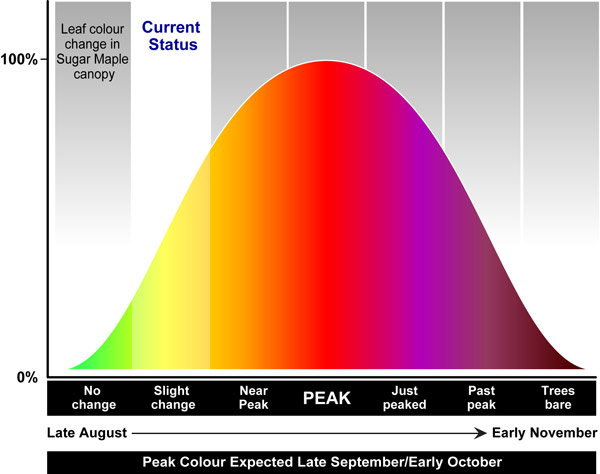 Report Date:
Current Status Category:
Slight Change
Percentage of Colour Change:
50%
Percentage of Leaf Fall:
10%
Report Details:

Algonquin Park's Sugar Maple canopy is halfway to the "peak" colour traditionally expected during the last week of September. Good viewing opportunities are available now, with some Red Maples offering their peak colour of the season (see Facebook for the latest images). Recent below freezing overnight temperatures are intensify the effort of trees to withdraw the green chlorophyll pigment and reveal the bright yellow, orange, and red colours within deciduous leaves. The later changing Sugar Maple understory remains green.

The best Sugar and Red Maple viewing is currently from the West Gate to about km 25 (Track and Tower Trail).

See below for traditional dates for peak fall colour in Algonquin Park and for the latest fall colour images. Check back for updates as the peak colour approaches.

Planning Your Visit:

Traditionally, Algonquin Park's fall colour occurs earlier than surrounding areas because of the Park's higher elevation and shorter growing season. During the past 35+ years of detailed record keeping, the earliest autumn leaf colour peak recorded was September 15, 1982, and the latest was October 9, 1996. The average peak of the Sugar Maple canopy in the western portion of the Highway 60 Corridor is September 27. In order to observe the peak Sugar Maple canopy colour a trip in mid September to early October is a wise idea. Learn more about the history of Algonquin Park's Sugar Maple colour peak.

Visitors coming to Algonquin Park in early to mid October (including Thanksgiving) are likely to catch the transition between the peak of the Sugar Maple colour and the onset of the peak yellow-orange colours displayed by poplar and birch species.

A mid to late October visit generally means the maples are well "past peak" or "bare", but the Tamarack, also know as Larch, are reaching their peak yellow colour before dropping their needles for the winter. The Tamarack is Algonquin Park's only cone bearing tree that changes colour and drops all its needles in preparation for winter. By late October or early November (depending upon environmental conditions) all deciduous trees are bare and prepared for winter.

Regardless of the exact date, Algonquin Park's Interpretive Trails are a good bet for viewing the fall colour. Trails offering lookouts with wide vistas are especially popular around the Sugar Maple peak and the later peak of poplar and birch species (see below for trail suggestions).

Good Places for Viewing:
Recommended Interpretive Walking Trails for Viewing:
Side Roads of Highway 60 with Great Foliage Viewing Opportunities:

Roads leading to Access Points around the periphery of Algonquin Park
Live Algonquin Park Webcam
Images
Submit your images of fall in Algonquin
Plan Your Visit
Related Information
Reserve your developed or backcountry campsite for your next visit.
Share your passion for Algonquin Park by becoming a member or donor.
Thanks to our 2014 Raffle Partners.