Pog Lake Campground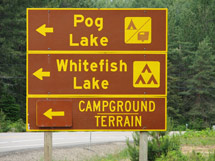 Operating Dates
Pog Lake Campground is open during the May long weekend and from mid-June to Labour Day.
Algonquin Park Services is responsible for the operation and maintanence of the campground under contract to Ontario Parks.
Location
Pog Lake Campground is located at km 36.9 of Highway 60.
Latitude/Longitude: 45.567128°, -78.438800°
Campground Office Hours
The Pog Lake Campground Office provides permits for the Pog Lake Campground, Kearney Lake Campground and Whitefish Group Campground, during normal operating dates.
May 22 to June 7, 2018*
Daily
8:00am - 4:00pm
June 8 to September 4, 2018
Daily
8:30am - 9:00pm
Fridays of Long Weekends
8:30am - 11:00pm
September 5 to October 9, 2018*
Office not open, but staff on campground duties from 8:00am - 4:30pm
* Whitefish Group Campground Only (Pog Lake and Kearney Lake Campgrounds closed)
Features & Amenities
Campground Map
Below is a current map of the Pog Lake Campground for trip planning purposes. Click to enlarge the map.
Nearby Attractions
---
Related Information
Reserve your developed or backcountry campsite for your next visit.
Share your passion for Algonquin Park by becoming a member or donor.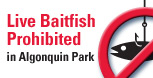 Special regulations for Algonquin's special fishery.