Minnesing Mountain Bike Trail
Description
The Minnesing Mountain Bike Trail is a steep, rugged mountain bike trail consisting of hilly, sometimes muddy, terrain filled with rock, roots and obstacles unsuitable for small children and unfit adults.
Length
4.7 to 23.4 km
Location
The Minnesing Trail is located on the north side of Highway 60 at km 23.
Operating Dates
The Minnesing Mountain Bike Trail is open from late June to mid-October (conditions permitting). For current trail conditions contact Algonquin Park Information. During the winter months this trail is the Minnesing Wilderness Ski Trail.
Difficulty Rating & Rationale
Moderate. Numerous steep grades and descents, rocks, roots, obstacles and muddy sections. Expect extensive muddy sections until the drier weather of August and September.
Features & Amenities
Parking
Toilets
Shelter cabins
Fees
A valid Park permit is required for trail use.
Nearby Attractions
---
Related Information
Reserve your developed or backcountry campsite for your next visit.
Share your passion for Algonquin Park by becoming a member or donor.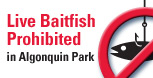 Special regulations for Algonquin's special fishery.