Algonquin Logging Museum Trail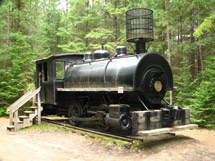 Description
This loop trail and exhibits summarizes the logging history of the Algonquin area. On the easy-to-walk 1.3-kilometre trail, a recreated camboose camp and a fascinating steam-powered amphibious tug called an "alligator" are among the many exhibits on display.
Length
1.3 km loop
Location
Algonquin Logging Museum Trail is located at the Algonquin Logging Museum at km 54.5 of Highway 60.
View Commercial Services & Park Attractions Map
Difficulty Rating & Rationale
Theme
Logging History in Algonquin Provincial Park
Features & Amenities
Trail Guide
Algonquin Logging Museum Trail Guide
Multimedia
This short video is featured in the Reception Building at the Algonquin Logging Museum.
Nearby Attractions
Related Information
Reserve your developed or backcountry campsite for your next visit.
Share your passion for Algonquin Park by becoming a member or donor.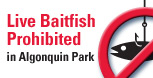 Special regulations for Algonquin's special fishery.