July 13, 2017
Ecological Restoration (Thinning) of Red Pine Plantations in Algonquin Park
Public Notice for a Category B Project Evaluation
The Ministry of Natural Resources and Forestry (MNRF) invites public comment on the proposed project of thinning red pine plantations in Development Zones, primarily along Highway 60 in Algonquin Provincial Park. The purpose of this project is to begin naturalizing these stands by thinning them to encourage natural regeneration in the under-story. Ecological integrity is the primary focus of this project by restoring a natural forest condition in these areas over time. The areas to be thinned are not within the Recreation Utilization Zone of Algonquin Provincial Park; therefore the Algonquin Park Forest Management Plan does not apply. This project has been screened under the Class EA for Provincial Parks and Conservation Reserves (Class EA PPCR) process as a Category B project requiring public consultation. Potential negative environmental effects associated with the proposed project would be mitigated through timing and conditions on the work. The net environmental effects of this project are anticipated to be nil-positive. In addition, this project would be undertaken in accordance with any additional required approvals and processes.
Comments must be received within the 30-day comment period, which expires on August 21, 2017.
The proposal is being evaluated as a Category B project under the Class EA PPCR. A Notice of Completion will be sent to those who submit comments or request further notice when the project evaluation is finished. MNRF may proceed to implement the project without issuing a further general notice.
For more information on the project, to submit comments or to request further notice, please contact:
Joe Yaraskavitch, R.P.F., Park Forester
MNRF, Ontario Parks, Algonquin Zone
Operations North Office
31 Riverside Drive
Pembroke, Ontario K8A 8R6
Phone: (613) 732-5550
Email: joe.yaraskavitch@ontario.ca
Comments and personal information regarding this project are collected under the authority of the Environmental Assessment Act and the Provincial Parks and Conservation Reserves Act to assist in making decisions. Comments and opinions which do not constitute personal information as defined by the Freedom of Information and Protection of Privacy Act, will be shared among MNRF and others as appropriate, and may be included in study documentation that is made available for public review. Personal information will remain confidential unless prior consent to disclose is obtained. This information may be used by the Ministry of Natural Resources and Forestry to seek public input on other resource management surveys and projects. For more information about this project, please contact Joe Yaraskavitch, R.P.F., Park Forester, Ontario Parks, 31 Riverside Drive, Pembroke, ON. K8A 8R6 (613) 732-5550 joe.yaraskavitch@ontario.ca
Reserve your developed or backcountry campsite for your next visit.
Share your passion for Algonquin Park by becoming a member or donor.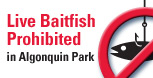 Special regulations for Algonquin's special fishery.