Issued: August 15, 2016
Special Advisory for Dickson Lake, Lake Lavieille, and Ryan Lake
Ontario Parks, the government organization responsible for the management of Algonquin Provincial Park, is reporting...
Presence of Algal Bloom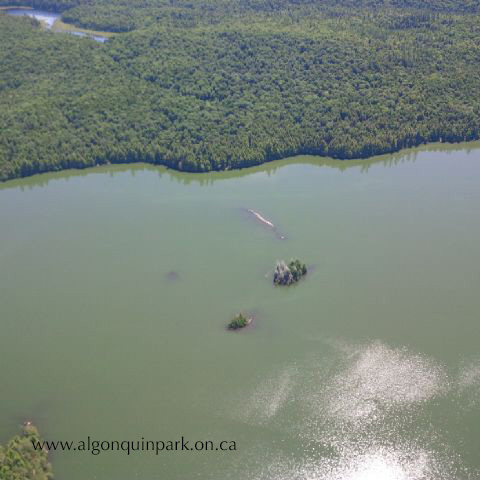 Aerial image of algae at Dickson Lake in Algonquin Park on June 30, 2015.
Dickson Lake, Hardy Bay on Lake Lavieille, and Ryan Lake are currently closed to overnight camping until further notice. At this time, the canoe route remains open for travel.
Dickson Lake and the south end of Lake Lavieille were closed to camping in 2014 due to the presence of blue-green algae. Evidence of algae was discovered on May 3, 2016 by Park officials. Water samples are being analyzed to confirm the presence of algae and identify the type. Some forms of algae can pose health risks to both pets and humans.
The algae discovered in Ryan Lake are a different form of blue-green algae than what has been affecting Dickson Lake and Lake Lavieille. It is more subtle to detect and will not dramatically change the appearance of the water colour.
The following precautions are recommended:
People or pets should not consume untreated, boiled, or filtered water

Consumption of fish is not recommended. If eating fish, avoid eating the skin, organs, and fatty tissues

Minimize direct contact with water

Do not use water for food preparation or bathing.
What are blue-green algae?
Blue-green algae are microscopic organisms (cyanobacteria) that are naturally present in lakes and streams. They are usually present in low numbers but can, under the right conditions, rapidly increase and form blooms that discolour the water or produce floating rafts or scum.
Why can't I drink the water if it is filtered or treated?
Boiling the water may rupture the cells and release toxins. Toxins that may be released by blue-green algae are not removed by small scale treatment methods such as filtration, chlorination, or ultraviolet light disinfection.
What are the potential health effects from drinking or coming in contact with water containing blue-green algae?
Some blue-green algae produce toxins that can pose a health risk to people and animals. Toxins are released into the water when the algae cells are damaged or begin to decay. Direct contact with the toxin can cause skin irritation, and if ingested in higher concentrations, may result in vomiting, nausea, diarrhea, and abdominal pain.
Is it safe to eat fish caught from waters affected by a blue-green algae bloom?
Eating fish caught from affected waters is an unknown health risk. It is known that some algae toxins have been found to accumulate in fish tissues, and particularly in organs such as the liver and kidneys. Toxin accumulation studies suggest that the muscle (fillet) tissue is less affected by algal toxins.
Please consult your local Health Unit for more information on blue-green algae and any potential health effects.
---
Related Information
Reserve your developed or backcountry campsite for your next visit.
Share your passion for Algonquin Park by becoming a member or donor.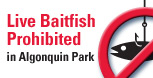 Special regulations for Algonquin's special fishery.