April 26, 2012
Important Notice: Higher Than Normal Number of Blowdowns on Portages and Trails in the Central and Eastern Portion of Algonquin Park

Ontario Parks has released an important notice which warns backcountry canoe trippers/anglers of the higher than normal number of fallen trees in the central and eastern portion of Algonquin Park (see the red shaded area on the map below). A portion of trees in this shaded area have been uprooted and/or broken by wind (or heavy snow/ice) and may be blocking portages and interpretive trails slowing or preventing the normal use of portages and trails. Ontario Parks staff are advising that trips into the Park's backcountry may be hampered and/or
Area With Higher Than Normal Number of Blowdowns
Reports from Algonquin Park's backcountry staff and early canoe trippers are indicating the area shaded in red has experienced a higher than normal number of blowdowns on portages and trails. Backcountry staff are working diligently to clear all portages and trails in the Park as soon as possible.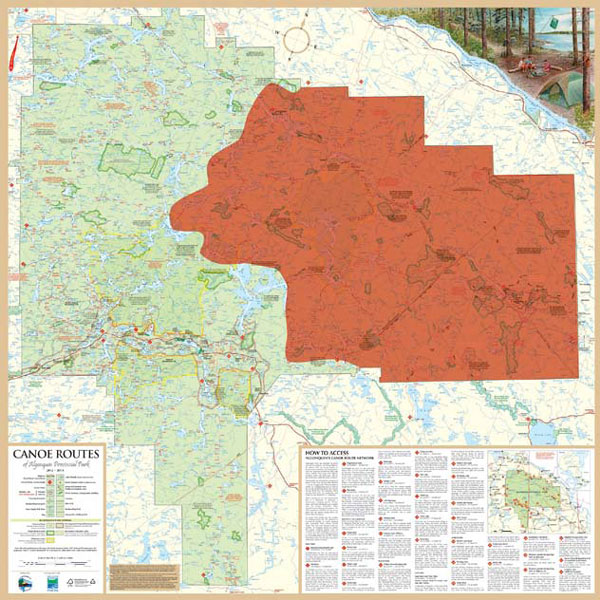 ---
Related Information
Reserve your developed or backcountry campsite for your next visit.
Share your passion for Algonquin Park by becoming a member or donor.
Thanks to our 2013 Raffle Partners.