April 21, 2012
"Birds of Algonquin Park" Released
Over 40 Years in the Making...
After gathering information for 40 years and actively writing for the past 15 years, birder extraordinaire and retired Algonquin Park Naturalist Ron Tozer has finally produced his life work in the widely anticipated Birds of Algonquin Park. It presents detailed accounts of all 278 birds known to have occurred in Algonquin, including information on migration timing, nesting habits and behaviour of the 144 breeding species, winter occurrence, historical records and population trends. The influence of climate warming on the arrival and departure time of migrants, and the declining numbers of many species are discussed.
Ron Tozer donated the manuscript to The Friends of Algonquin Park and it has published the book with the generous support of The Gordon & Lorraine Gibson Family Foundation. This 480-page masterpiece is now available for purchase online or at any of The Friends of Algonquin Park stores.
Sample Pages from "Birds of Algonquin Park"
---
Related Information
Reserve your developed or backcountry campsite for your next visit.
Share your passion for Algonquin Park by becoming a member or donor.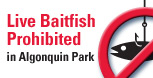 Special regulations for Algonquin's special fishery.