Employment with The Friends of Algonquin Park
If you are interested in working with one of the most successful cooperating associations in Canada, please do not hesitate to forward your resume at anytime to The Friends of Algonquin Park. Your resume will be kept on file for consideration during our next hiring process. Contact us.
---
Seasonal Staff House Cook
Enjoy summer employment as a Seasonal Staff House Cook working with The Friends of Algonquin Park.
Duties
Prepare and follow a 3-week rotational menu of dinnertime meals for up to 20 people, meeting any vegetarian, non-vegetarian, and special dietary needs. (Residents prepare their own breakfasts and lunches from prepared/provided food items.)

Plan and shop for grocery orders on a budget (may involve a weekly trip to Huntsville with a provided vehicle).

Clean kitchen and dining areas and dishes after breakfast and dinner preparation. (Residents share dish duty for dinnertime meals.)

Prepare meals for occasional special events, e.g., barbecues which are held for staff day, interpretive functions, year-end dinner, etc., for up to 30 people.

Ensure staff house operates within Algonquin's waste management program of recycling and organics diversion.

Qualifications
Experience with food handling and preparation.

Working knowledge of food safety guidelines.

Energetic, enthusiastic, self-motivated, and committed to customer service excellence.

Excellent interpersonal, organizational, and oral and written communication skills.

Ability to work independently with little supervision and as part of a team, and to follow and carry out instructions.

Valid MTO Class "G" Driver's Licence.

Working knowledge of the Occupational Health and Safety Act.
Remuneration
Employment period is Early June to Labour Day.

The remuneration is between $11.40 to $14.00/hour. Candidates should outline salary expectations in their cover letter.

The opportunity to work in a world-class park.

Staff house accommodations may be available to qualified candidates.
How to Apply
Send your résumé and a detailed cover letter outlining your experience and interest to:
David LeGros
c/o The Friends of Algonquin Park
Box 248
Whitney, ON K0J 2M0
Phone: 613 637-2828
Email: david.legros@ontario.ca
Application deadline is Friday, April 7, 2017. We thank all applicants but only those selected for an interview will be contacted. Candidates must be available for an in-person interview in Algonquin Park in early May.
Please note that seasonal positions are subject to budget approvals and might not be filled as initially intended. The Friends of Algonquin Park is an equal opportunity employer.
Forward to a Friend
---
Volunteer Opportunities
The Friends of Algonquin Park has occasional volunteer opportunities. Please see the Volunteer webpage for current opportunities.
---
Cooperative Education & High School Volunteer Opportunities
The Friends of Algonquin Park has hosted various unpaid cooperative education and high school volunteer opportunities. Please contact us for more information.
---
Related Information
Reserve your developed or backcountry campsite for your next visit.
Share your passion for Algonquin Park by becoming a member or donor.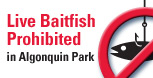 Special regulations for Algonquin's special fishery.